Ayrshire Scotland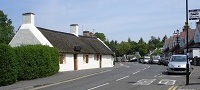 Ayrshire is steeped in history with links to William Wallace, Robert the Bruce and Robert Burns. The Burns birthplace cottage museum is in Alloway village by Ayr.
The seaside towns of Ayr, Girvan, Irvine, Largs, Prestwick and Troon attract many visitors. The towns have a good selection of restaurants, bar/diners and cafes, most listed on their pages. View a Click on Map of Ayrshire Towns and Villages . Ayrshire Beaches .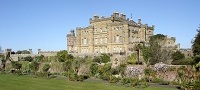 There are over 40 Castles throughout Ayrshire, many of which can be visited.
Castles of Ayrshire and their grounds were acquired by Clans that supported Scottish Kings in battle, the braver in battle, the greater the reward. Ayrshire Clans include: Boyd, Boyle, Bruce, Campbell, Cathcart, Craufurd, Cunningham, Hamilton, Hunter, Kennedy, Lockhart, Montgomery, Mure and Wallace.
Recent updates: Isle of Arran Click On Map . Dumfries House . Culzean Castle . Loch Doon . Goat Fell on Arran Hike . Walk/Hiking Routes .
Ayr Shopping - top shopping in southwest Scotland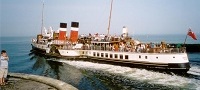 The four islands Ailsa Craig, Arran, Cumbrae, and the Holy Isle, are only a short distance off the Ayrshire coast. The Waverley Paddle Steamer visits Ailsa Craig, Cumbrae and Arran in summer.
The largest island Arran with its scenic mountains, has a regular ferry service from Ardrossan. The island of Ailsa Craig is now a bird sanctuary with daily boat trips to the island from Girvan. Cumbrae famous for its cycle lane around the island, has a regular ferry service from Largs. The Holy Isle for hiking, has a regular ferry service from Lamlash village on the Isle of Arran.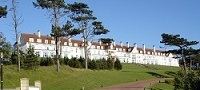 There are over 80 fine hotels throughout Ayrshire including the prestigious Turnberry Hotel.
Covered on the website are hotels in Arran 20, Ayr 23, Country 12, Fenwick 1, Girvan 4, Irvine 6, Kilmarnock 8, Largs 6, Maidens 3, Monkton 2, Prestwick 6, Seamill 2, and Troon 9. View all Hotels.

Large Click On Map for Ayrshire - Dumfries & Galloway Attractions.