Ayrhire Riding Schools and Centres that welcome visitors for days and some offer holidays.
Click on Post-Codes for Maps & Reviews.
Ayr Equitation Centre is situated at South Mains, Corton Road. This centre is less than 3 miles from Ayr by taking the A713.
Signs for the centre are easily followed from this road. The centre offers 1 and 2 hour treks.
Tel: 01292 266 267.
Website . KA6 6BY
Dean Castle Riding Centre is situated in Dean Castle Country Park in Kilmarnock. This centre offers short pony rides, trekking and carriage rides. Tel: 07375 381 475.
Website . KA3 6BL
Kelburn Riding School is situated in Kelburn Country Centre less than one mile south of Largs. The centre offers Ten-minute paddock rides, one hour treks and two hour treks.
More information on this riding school and accommodation holidays can be found at the website. Tel: 01475 568 544.
kelburnestate.com . KA29 0BE
Lionsgate is a family run riding school situated in the Ayrshire countryside, 4 miles from Ayr town centre. Lionsgate is open all year round, with an outdoor school and clean, tidy stables and yard.
Riding lessons and full livery at affordable prices. Tel: 01292 261 556.
Website . KA6 6AJ
The Cairnhouse Riding Centre is situated at The Stables /Blackwaterfoot on the west side of the Iisland of Arran.
North Sannox Pony Trekking Centre is situated on the Island of Arran only 7 miles north of Brodick.
The centre offers five-minute pony rides for kids, one-hour treks, and 2 hour treks. Tel: 07984 256 664.
Website . KA27 8JD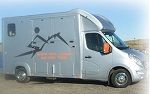 Ayrshire Horse Transport
Based by Kilmarnock in Ayrshire, Susan Ward has been operating Ayrshire Horse Transport for over 20 years. Also transports horses all over Scotland, UK, and Western Isles. Tel: 07836 793 081.
ayrshirehorsetransport.co.uk
Lee Christie Farrier Ltd
Christie Farrier Ltd is a registered & insured farrier covering hot and cold shoeing, remedial and specialist work in the Ayrshire and Renfrewshire area. Tel: 07916 293 651 / 01294 213 966.

Robert Campbell Farrier
Ayrshire based farrier. Tel: 01563 528 583.