| | |
| --- | --- |
| Ayr Attractions | |
Below is a list of the top attractions in and around Ayr Town. Ayr Train Station is next to Burns Statue Square, close to the top of the High Street, main shopping street. The centre of Ayr is the Town Hall where the High Street meets the Sandgate. Ayr Beach is about 1 mile west of the Train Station, half of a mile west of the Sandgate.
Ayr Bus Station is on the Sandgate.
Each Attraction has a Post-Code that gives a link to a Google Map for Directions and Reviews where possible.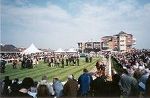 Ayr Horse Racing
Ayr Racecourse is about one mile north of Ayr town centre. This is the top racecourse in Scotland with many popular fixtures throughout the year. The two largest fixtures attract vast crowds from all over the UK. These fixtures are the Scottish Grand National jumps meeting, in April 3rd week, and the Ayr Gold Cup flat meeting, in September 3rd week. The Western House Hotel at the racecourse has one of the towns most popular restaurants.
Website . Postcode: KA8 0JE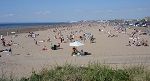 Ayr Beach
Runs from the Harbour for over 1 mile south. This is one of the largest and busiest Beaches in Scotland. There is also the vast Low Green grassland that runs alongside the Beach for lazing around, family games, kiting, putting and is used for a few events throughout the year. The Horizon Hotel overlooks the beach with a fine bar diner.
Postcode: KA7 1EQ . Image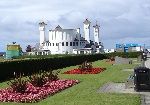 Pirate Pete's
Kids adventure play at Ayr Beach is a large indoor and outdoor Kids Play area that is extremely popular with Scotland's largest indoor adventure play, Scotland's first mini championship putting course. A traditional seafront tearoom and kids outdoor fun park. Tel: 01292 265 300.
Website . KA7 1EQ . Image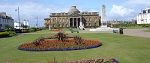 Wellington Square
In front of the large Court Building, next to Pirate Pete's by the Beach. The Court and Wellington Square were built around 1822, now with bar diners, restaurants and ice cream shops around. St Johns Tower and Tennis Courts are just to the right in this Image.
Large Image . Map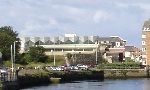 Ayr Citadel
Large indoor swimming pools and leisure centre. By Ayr Beach with Swimming Facilities at the Citadel include 3 swimming pools. The main pool, a 25m, 6 lane pool, teaching pool and a flexi pool with moveable floor. All pools have disabled access and host a number of water based activities such as: early bird and ladies only sessions, fun kid's sessions, diving, club activities, lessons and aqua aerobics.
Website . Postcode: KA7 1JB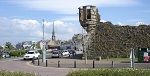 Ayr Fort
Next to the Citadel by the Harbour, built for Oliver Cromwell in the 1600s during the English Civil War that spread into Scotland. There are remains of the Walls, Cannon and Information Boards explaining its History.
Information . Postcode: KA7 1HE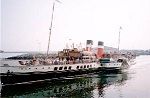 Waverley Paddle Steamer
Trips to the southwest coast Islands. The Waverley paddle steamer steams out of Ayr to the islands of Ailsa Craig, Cumbrae, Bute and Arran from May until August. The Monday evening cruise around the bird sanctuary of Ailsa Craig is extremely popular. This is the only seagoing paddle steamer in the world. The departure point is from Ayr Harbour, by the large Citadel Sports Centre.
Website . Postcode: Map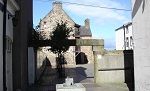 Loudoun Hall
Up from the Harbour by the River at the bottom of the High Street. This is the Oldest Dwelling House remaining in Ayr, built in 1513, can be visited at times.
Website . Postcode: KA7 1HR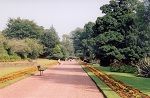 Auld Brig & River Ayr Walk
River Ayr Walk starts at the Auld Brig or from the Auld Kirk, both just off Ayr High Street. The walk heads east past Ayr College into Graigie Estate. You can walk round Craigie House and Gardens. The walk can be extended east about 1 mile further on along the river to Dalmilling Golf Course. You can then cross Craigie Bridge to the River Ayr Stepping Stones. The Auld Brig was built from 1470.
Website . Photo Tour . Map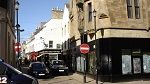 Wallace Statue
Can be found just off the High Street where it merges with Newmarket Street. William Wallace was said to have been imprisoned in a Tolbooth here by the English during the First War of Scottish Independence in 1297. The Statue is on the first floor of a Town House claimed to have been built on the site of the Old Tolbooth.
Large Image . KA7 1LU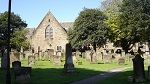 Auld Kirk of Ayr
Can be found just off the High Street by the River Ayr via a lane named Kirport. Built in 1654 on the site of a former Black Friars Monastery with funds from Oliver Cromwell.
Website . KA7 1TT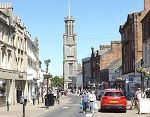 The Wallace Tower
Can be found in the middle off Ayr High Street. Completed in 1858 at 60 ft high with the Wallace family Coat of Arms above the entrance. You used to be able to go to the top for views, but not just now? William Wallace led the Scots to victory over the English at Stirling Bridge in 1297.
Large Image . KA7 1PZ
Burns Statue Square
Can be found at the top of the High Street in front of the Train Station. The main Monument in the Square is in Honour of the Poet Robert Burns who died in died in 1796. Burns was born in Alloway on the south side of Ayr. There is also a Monument in honour of the Royal Scots Fusiliers who used to be based in Ayr.
Large Image . Map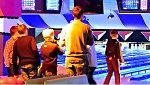 LABowl
On Miller Road just down from Burns Statue Square. Tenpin Bowling, LAzerzone, Pool, Amusements, Bar, and American themed Bar Diner. An ideal venue for all the family. Tel. 01292 611 511.
Website . Postcode: KA7 2AX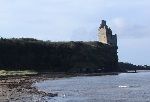 Greenan Castle
By the beach 2 miles south of Ayr centre. Greenan Castle is a ruin on rocks at the south end of Ayr Beach built for the Kennedy's in the 1600s. This is a popular walk along the beach or by a path beside the beach. The walk crosses the River Doon Millennium Bridge where there is also a scenic riverside walk. You can also walk past the castle out to the Heads of Ayr Cliffs, about another mile.
Ayr to Greenan Page . History . Map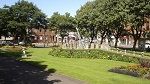 Prestwick Town on the north side of Ayr
Prestwick is joined to Ayr with regular buses from Ayr Bus Station. The town has a few unique shops, restaurants, many bar diners, indoor tennis, long sandy beach and large indoor kids play. The top attraction is the historic Prestwick Golf Club, situated in the town centre by the train station. This is where the first Open was played from 1860 to 1872. You can visit the pro shop and Trophy Area for some pictures, but you are not allowed in the clubhouse itself.
Photo Tour . Map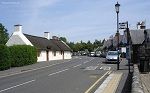 Robert Burns Birthplace Museum
On the south side of Ayr in Alloway Village. The poet Robert Burns Birthplace Museum is situated in Alloway Village on the south side of Ayr, about 2 miles from Ayr centre. Alloway is one of the most scenic places in Scotland with the Auld Brig, Auld Church, Brig o Doon Hotel, Burns Cottage, Poets Walk, Memorial Gardens, and the impressive new Visitor Centre. The Brig o Doon Hotel has a good restaurant, tea room and scenic gardens. Buses run between Ayr and Alloway about 1 an hour.
Web Page . Walk . YO1 7JL . Image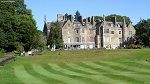 Belleisle Park & Golf
Country park south side of Ayr. Belleisle Park is a country estate on the south side of Ayr with two extremely popular golf courses, Belleisle and Seafield. The park also has a scenic walled garden, kids play, grass leisure area in front of the hotel, woodland walks, deer park and tea room. It is a two mile walk from Ayr centre to the park or there are regular buses from Ayr Bus station 1 each hour and drops off or pick up at the entrance of Rozelle Estate and Belleisle Estate east entrance, just before Alloway Burns Centre.
AS Page . Website . KA7 4DU . Image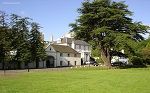 Rozelle Park
Park and Art Gallery south side of Ayr. Rozelle Park is a country estate on the south side of Ayr with scenic walks, ponds, sculpture garden, tea room and The Maclaurin Galleries are housed in what were the stables and servants quarters. Rozelle Park is just under two miles south of Ayr centre. Buses leave Ayr Bus station 1 each hour and drops off or pick up at the entrance of Rozelle Estate, just before Alloway Burns Centre.
AS Page . KA7 4NQ . Rear Image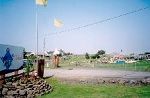 Heads of Ayr Farm Park
5 miles south of Ayr centre. This is a popular park with locals, visitors and coach tours with almost 50 different types of animal, each with its own particular charm. The park is packed with fantastic activities like indoor and outdoor play areas, an aerial runway, thrilling ringo sledging, tunnel land and the combine castle. Regular buses run between Ayr Bus Station and Dunure with a stop at the farm park. Tel: 01292 441 210.
Website . Postcode: KA7 4LD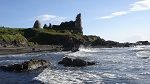 Dunure Castle
7 miles south of Ayr centre. Dunure Castle is situated at the scenic coastal village of Dunure on the A719 road. This is another Kennedy ruin from the 1300s with an interesting history. Dunure has a popular Inn for meals, cafe and Kennedy Park with a kids play area and large play area for families. The rocky beach is a popular place to explore. The Bus 361 runs about 1 an hour between Ayr Bus Station and Dunure.
History and Images . Map . Image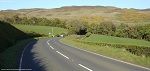 Croy Brae / Electric Brae
10 miles south by Dunure. Croy Brae on the A719 coastal road with views over the sea and Culzean Castle. This part of the road looks as if it is going up hill. It is so confusing, many people put their cars in neutral then wait to see which way it runs. There is a car park in the middle of the hill with a large stone with inscriptions trying to explain the illusion.
Stone Inscriptions . Map . Image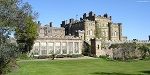 Culzean Castle
13 miles south of Ayr. Culzean Castle is one of the most impressive castles in Scotland. This was the main castle of the Kennedy's for centuries until they handed it over to the National Trust for Scotland in 1945. The castle grounds are huge with woodland walks, a massive walled garden, and deer park. Bus No 60/360 runs between Ayr Bus Station and Maidens and Girvan dropping off and picking up at Culzean Estate entrance, about one an hour. There is about a 1 mile walk from the bus stop at the Estate entrance to the Castle.
History Images . KA19 8LE . Image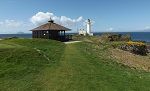 Turnberry
17 miles south of Ayr. Turnberry is one of the most scenic places in Scotland. There is roadside parking between Turnberry and Maidens with a signed path through the golf courses to Turnberry Lighthouse, built on the ruins of Turnberry Castle, birthplace of King Robert the Bruce. There is a snack bar at the Lighthouse with great views, although a little expensive. There is also a monument on a hill by the Lighthouse that is popular for visits, for airmen that lost their lives at Turnberry Airfield during WWII. Buses run between Ayr Bus Station and Maidens, Turnberry and Girvan, about one an hour.
History and Images . Map . Image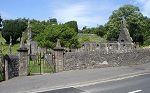 Kirkoswald Village
13 miles south of Ayr. Kirkoswald is popular for the history of the poet Robert Burns as this is where all the characters for his poem Tam O Shanter lived, with many of their graves in the old church yard. The village is also popular for the House of Burns bar diner and tearoom. Also the Whiskey Experience where you can find top Scottish Whisky and pour your own bottle from a cask. Regular buses run between Ayr Bus Station, Kirkoswald and Girvan, about one an hour.
History and Images . Map . Image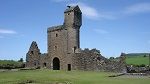 Crossraguel Abbey
11 miles south of Ayr by Kirkoswald. Founded in 1244 for the 1st Earl of Carrick, one of the best preserved Abbey's in Scotland. Regular buses run between Ayr Bus Station, Kirkoswald and Girvan, about one an hour.
History and Images . Map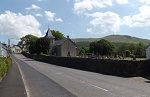 Straiton Village
14 miles southeast of Ayr. Straiton is a scenic small village popular for its walking and hiking routes, especially the hike to the Hunter Monument at 1,086ft above the village. The village has a cafe and inn for snacks and drinks. Buses run between Ayr Bus Station and Straiton.
Photo Tour . KA19 7NF . Image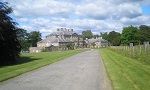 Dumfries House
14 miles east of Ayr. Dumfries House is one of Britain's top stately homes in 2,000 acres of land. This stunning 18th-Century house has an unrivalled collection of original furniture, something for everyone. Tel: 01290 425 959.
Photo Tour . KA18 2NJ . Image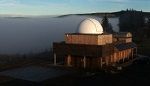 Scottish Dark Sky Observatory
16 miles east of Ayr. The Scottish Dark Sky Observatory is situated in the hills by Loch Doon on the Craigengillan Estate. Open to the public with some of the darkest skies in the UK, and two large telescopes to observe the night sky. Night visits have to be pre-booked. Tel: 01292 551 118.
Website . KA6 7PZ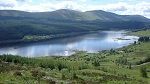 Loch Doon
17 miles east of Ayr. Loch Doon is about 7 miles long with a cafe, castle ruin to explore, osprey's nesting, used by many canoeists, fishermen, has a scenic gorge trail, and hikes from 800ft to 2,600ft, all with great views over the loch.
Photo Page . Map . Image