Hugh Montgomery of Eglinton killed James Boyd, 2nd Lord Boyd, in 1484, aged 16, with the main estate and castle of the Boyds', 10 miles east. Robert Boyd, 4th Lord Boyd, killed Patrick Montgomery in 1523, and Sir Neil Montgomery in 1547.
Hugh, third Lord Montgomery, supported Prince James against his father James III. He fought at the Battle of Sauchieburn in 1488 that saw the death of James III, and his son become king. Alexander Cunningham, 1st Earl of Glencairn, died in the battle alongside the defeated James III.
The following year, Lord Montgomery was made Baillie of Bute and Cunningham, this being the start of the Montgomery/Cunningham feuds, as the Cunningham's took exception to loosing the Baillie of Cunningham.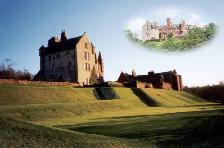 Lord Montgomery then began building Skelmorlie Castle, completed in about 1502, north of Largs in Ayrshire, on lands taken from the Cunninghams', setting of fueds that lasted to the 1660s.
In 1508, Hugh Montgomery was created Earl of Eglinton.
The Earl of Eglinton survived the battle of Flodden in September 1513 against the forces of Henry VIII of England, that saw many other Scottish Nobles, and King James IV himself killed.
1561, The Montgomerys' reached a settlement with the 5th Lord Boyd, ending the feud that had lasted 77 years.
Hugh, the 3rd Earl, a devout Catholic, supported Mary Queen of Scots against the protestant reformation. He fought for the Queen at the Battle of Langside in 1568, where he was taken prisoner. Hugh was released in 1571.
1586, the 4th Earl was killed by the Cunninghams' of Glencairn. The earl was riding to Stirling when he was attacked by Cunninghams' and their men. The 4th Earl was shot dead in the attack, said to be by John Cunningham of Colbeith. The original Eglinton Castle was set on fire by the Cunninghams' around that time as well.
The Montgomerys' responded to the murder and burning of the castle by killing every Cunningham they could find. John Cunningham of Colbeith was said to have been tracked down and cut to pieces.
1660s, William Cunningham, 9th Earl of Glencairn, married Margaret Montgomery, daughter of Alexander, 6th Earl of Eglinton, ending the Cunningham-Montgomery feud.
The 6th Earl of Eglinton was captured by the Parliamentarians at Dumbarton during the Civil War in the early 1650s. He was imprisoned in Berwick until the restoration of the Stuart's to the throne in 1660.